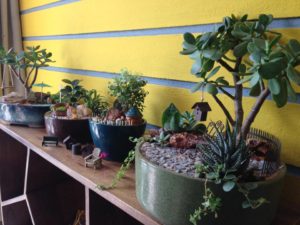 Gardening is the practice of growing and cultivating plants as part of horticulture. Your plant could an indoor one, a bamboo or even better a bonsai.
There is something therapeutic about getting your hands dirty and seeing the fruits of our labour.
Join the organic terrace gardening classes in Bangalore right in your backyard at Bloom and Grow Koramangala.
Get professional with your growth – let the plants flourish and so will you..
 What will you learn
you will learn the types of platns and soil they need
how much sunlight – positioning, complimenting plants
use of gardening tools
use of home refuse for manure
culture and cultivating them
Ask for Cutomisations
Terrerium
Office gardening
Vegetable patch
Kitchen Garden
Garden scaping
Miniature gardening