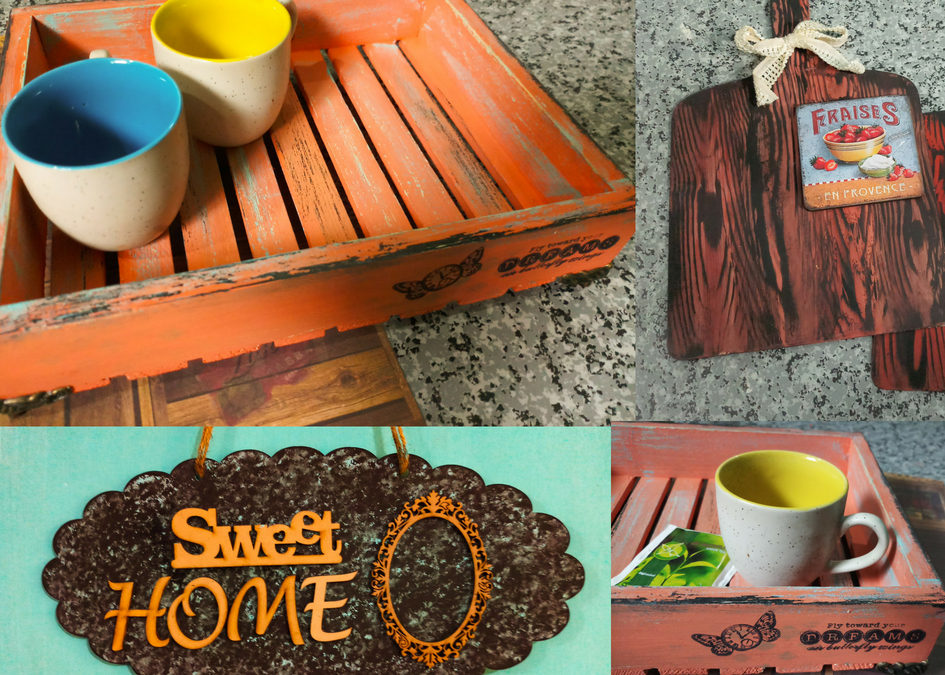 Decoupage Backgrounds – Learn Distressing, Wood Graining, Sponge Techniques in one workshop
Isn't it fun creating beautiful backgrounds for your decoupage projects?
Come explore three type of backgrounds which can later be used on multiple projects.
What backgrounds will be covered in the workshop?
1) Distressing on Tray
Learn distressing and add distinguished texture and rustic appeal to a plain tray. The workshop will cover wax technique of distressing. One can use this technique to give a different look to the existing furniture or perhaps to any leftover wood.
2) Woodgrain technique on chopping board
Woodgraining is the process of painting wood grain pattern on a panel that has been primed and prepped. This amazing technique allows you to turn a flat, bland panel into a beautiful wood surface.
3) Sponge technique on the nameplate
Enhance the look of a name board by correct use of sponge technique and chalk paints.
Take Aways:
1) 10″ by 8″ distressed tray
2) 13″ by 8″ chopping board beautified by wood graining
3) 12″ by 6″ nameplate enhanced by sponge technique
Day & Date – Sunday, 4th November
Time- 11am-2pm
Venue- Bloom & Grow, Koramangala
Fees – Rs 1900 (includes all material)
Bloom & Grow facilitates artist-led art & craft workshops in studios and also, conducts art based corporate workshops across India.