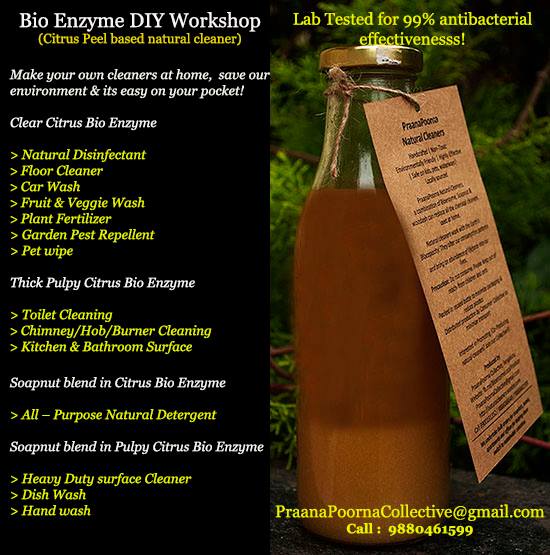 generic proscar online pharmacy by pooja kachroo | Mar 25, 2018
click here PraanaPoorna Naturals
follow link PraanaPoorna Naturals a range of natural products handcrafted locally by sourcing all natural ingredients. The processes are derived from native traditional practices and knowledge which are our assets and are known for ages. These indigenous practices are used to make natural eco-friendly products. Natural cleaners work with the Earth's regeneration process thus reducing conflict with earth and other living beings co-habiting this ecosystem and bringing abundance of life force into our lives.
dove acquistare levitra generico Using Soapnut, Shikakai, woodash in combination with Bio-Enzyme, can help us replace all the chemical cleaners used in our living spaces on daily basis. Since these are natural cleaners they are full of life and make you feel full of life by giving a natural touch by directly interacting with our energies. These cleaners are completely non-toxic, environmentally friendly, highly effective, and clean better than any other regular chemical based cleaning agent available in market. These cleaners are wonderful all-purpose cleaner for every space in the city and are perfect for eliminating pests, cleaning up protein stains (blood, oil, grease, etc.), and pet stains/odors. Best take away out of all is natural Bio–Enzyme cleaners are safe to pets, humans as well as to water bodies.
source link PraanaPoorna Natural Cleaners – Remedy/ Application.
http://acrossaday.com/?search=buy-cheap-generic-accutane All-purpose disinfectant cleaner in floor and toilet cleaning
Natural cold fumigation of Gardens/ landscapes as Mosquito repellent
Effective in Odor control. Eg: compost, pet wipe, recycled grey water
All-purpose natural detergent
Heavy duty cleaner for greasy areas in Kitchen
source link Bioenzyme Local Produce Community fb.me/BioenzymeLocalProduce
PraanaPoorna Collective Mail PraanaPoornaCollective@gmail.com
https://naturalcleaners.weebly.com/
Call 9880461599 to know more
Day & Date – Sunday, 25th March
Time – 10.30am -1.00pm
Fee – Rs 400 per participant (includes all taxes)
About Bloom and Grow:
Bloom & Grow facilitates artist-led art & craft workshops in studios and also, conducts art based corporate workshops across India.