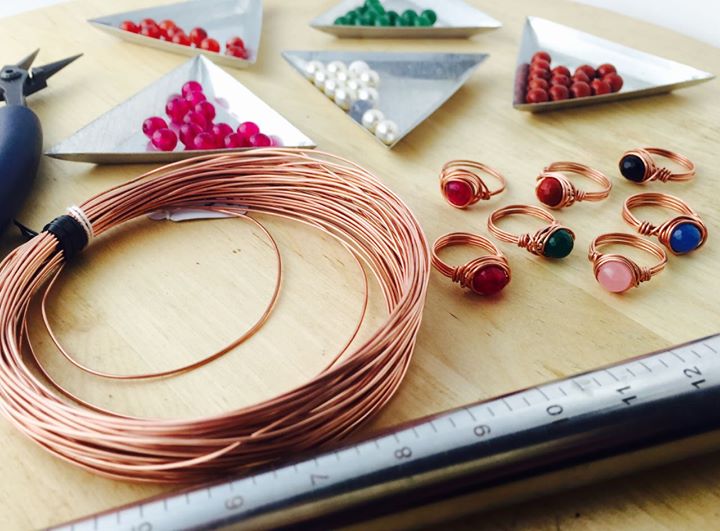 follow link by bloomandgrow | Apr 10, 2017
INTRODUCTION TO WIRE JEWELRY
enter (Picture taken by artist shows actual products that will be done at the workshop)
Join our professionally trained Jewelry expert and instructor Kappu on a fun filled journey into the world of wire jewelry in this 5 day intensive workshop. The kids will learn a new craft that has unimaginable scope for creative expression and also experience the joy of creating gorgeous wire jewelry from scratch with their own hands.
Objectives:
To create stunning wire Jewelry with nothing more than wire and a set of pliers.
Learn all about the tools and materials before moving on to make a range of wire components and completed wire jewelry including earrings, bracelets, necklaces and rings.
Gain confidence in the basic techniques of wire jewelry and use it to make professional quality wire jewelry from home.
Set a strong foundation for developing more advanced wire jewelry skills.
An opportunity 'TO DO' and the satisfaction of creating something of your own with practical knowledge and skills.
Level:
Beginner
No previous experience required.
Projects covered:
3 pairs of earrings
1 necklace / bracelet
2 kinds of rings
Techniques covered:
Using pliers and other tools
Manipulating wire to make different components like charms, ear wires, clasps etc., for using in their jewelry projects.
Cutting, shaping and looping wire.
Work hardening wire using bench block and hammer.
Making wire coils, swirls, caged beads
and more….
Parents can rest assured that utmost care will be taken when children handle tools.
Materials:
All materials and tools required for the workshop are provided for use during the workshop.
Kids take home all completed and ongoing projects at the end of the workshop.
Option to purchase wire and pliers available in class.
Age group:
8+ years
Price:
Rs. 3,500
Dates:
April 10, 11, 12, 13 and 15
Timigs:
10.30am-1.30pm
Register – https://bloomandgrow.in/event/introduction-to-wire-jewelry-summer-camp/