The Portrait Sketchbook
June 19 | 10:30 am

-

July 5 | 1:00 pm
Event Navigation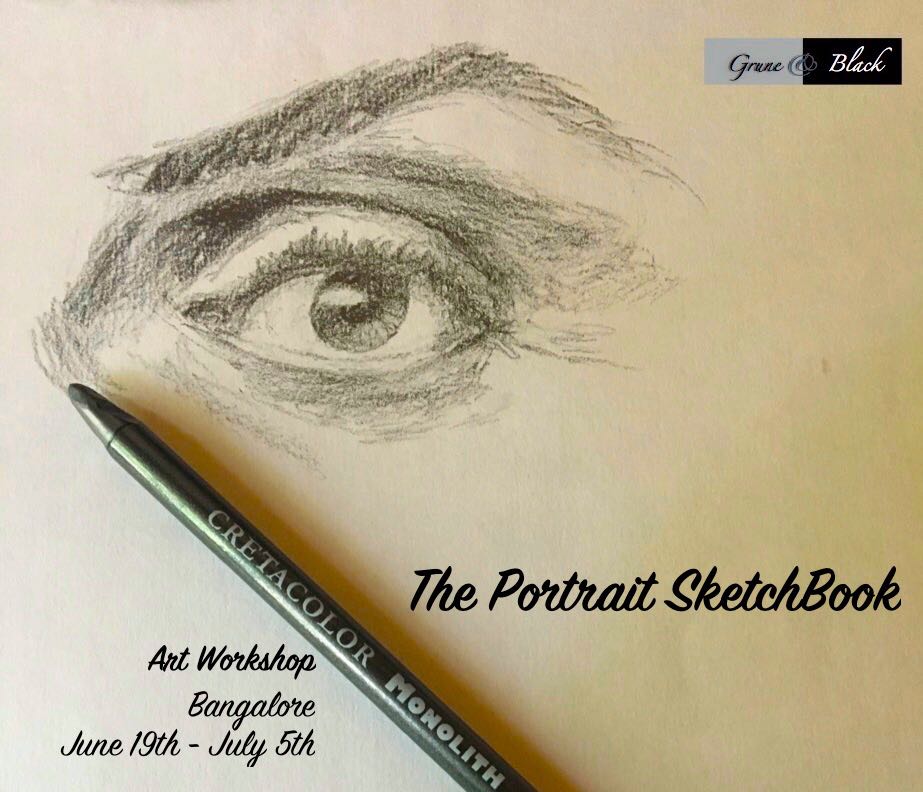 The Portrait Sketchbook
Grüne & Black "
Graphite and Diamond are the purest forms of carbon. A few perfectly sketched lines in graphite can be more valuable than a diamond". Welcome to 'The Portrait Sketchbook'. An art workshop designed to help you create stunning portraits in graphite. Most aspiring / hobby artists tend to believe that portrait sketching requires an elevated level of artistic skill. Well, we are about to bust that myth! Understand the fundamentals of sketching, master techniques of form and shading, and bring life & depth into your portraits. Take the first steps to creating your very own portfolio sketchbook of artwork to build on and share with the world. Showcase your work through Grüne Elefant Art! Participants stand a chance to have their finished artwork exhibited on Grüne Elefant Art's online gallery and social media handles. No prior experience in art required. All materials will be provided.
Questions? Contact: +91 9945560130 / info@gruneart.com / bngblr@gmail.com or DM us on FB or Instagram (@grune_elefant_art)
Workshop Schedule:
Session 1
Drawing Basics
Line & form exercises
2D to 3D objects
Perspective
Value Scale
Basics of shading
Session 2
Drawing the Face I: Proportions & placements Eyes, Nose, Lips, Ears Chin, Jaw, Neck Forehead, Hair
Session 3
Drawing the Face II: Chin, Jaw, Neck Forehead, Hair Rhythm lines Face planes
Session 4
Portrait Drawing Exercise I
Step by step approach & construction
Value shading & contours
Session 5
Portrait Drawing Exercise II
Mood & Expression
Muscle & skin
The effects of Age
Creating expressions
Session 6 (Bonus)
Portrait Drawing Exercise III
Choosing a subject
Creating from Imagination (intro to gesture & dynamics)
Exaggerating the features (intro to caricatures)
What we will provide: Drawing tool kit comprising – – Artist grade A4 size Sketchbook – Set of artist drawing pencils – Art eraser, sharpener & scale.
Venue: Grüne Elefant Art, 3rd Floor, 17D Main, 6th Block, Koramangala. Bangalore 560095. Landmark: Bloom & Grow (co-host). Diagonally opposite Koramangala Club Start date: June 19th 2018.
Schedule: Tuesdays & Thursdays 10.30 am – 1.00 pm.
Total Sessions: 6 (2 per week) Workshop Fee: INR 6,000/- An advance payment of Rs 600/- can be paid online and the rest on the first day of the session.
About the Artist: Mark D'Cruz is the founder of Grüne Elefant Art, an online gallery and platform for upcoming and established artists to display and promote their artwork. As an artist, his works include landscapes, still life's, abstracts and portraits. Mark has a passion for teaching art across mediums like graphite, acrylics & oils, and has conducted several art workshops on the same. He studied Art as a Global Business at The Sotheby's Institute of Art, UK, and is himself an avid art collector and consultant.