Yoga – Online Live Sessions (For Children and Adults)
September 28 | 8:00 am

-

November 20 | 9:00 am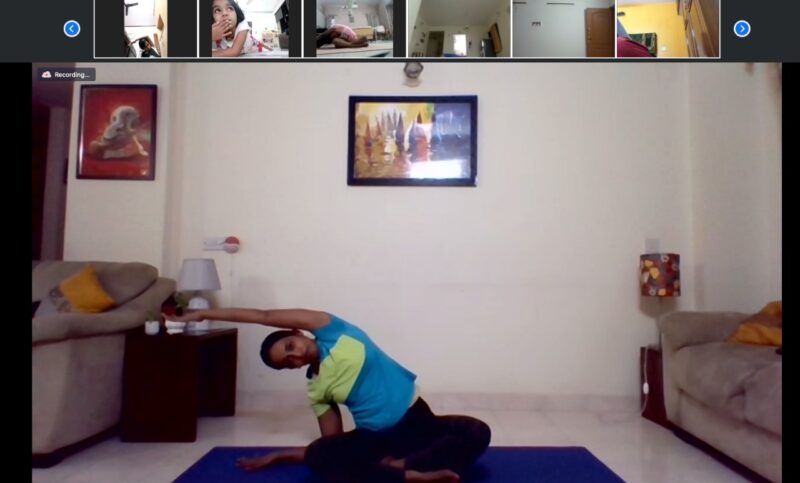 Yoga with Aparna Rao – Online Live Sessions (For Children and Adults)
In the hustle and bustle of everyday life, we tend to forget about our health. All of us need some sort of distraction and outburst to keep ourselves calm and balanced. Learn Yoga in a holistic, traditional and fun way! at your own pace.
We have separate sessions for children and adults – both beginners and advanced
Materials required – Yoga Mat (Optional)
Batch Details:
Monday to Friday (Morning): 8:00 am to 9:00 am (IST)
Monday, Wednesday & Friday (Evening): 5:00 pm to 6:00 pm (IST)
Fee Details:
Rs 1600 per person (for 10 classes)
Rs 900 per person (for 5 classes)
(Inclusive of GST & convenience charges)
Payment link for 5 classes: https://rzp.io/l/3czyIJG
Payment link for 10 classes: https://rzp.io/l/igs7qiX
Venue:
The sessions will be held on Zoom
Note: Participants can sign up for either 5 or 10 classes.
About Bloom and Grow:
Bloom & Grow facilitates artist-led virtual and offline workshops for individuals and for corporates across the world.
To stay updated with the sessions, join WhatsApp group with the link https://chat.whatsapp.com/K3j1qNIjqWlBobA2fsKxFd