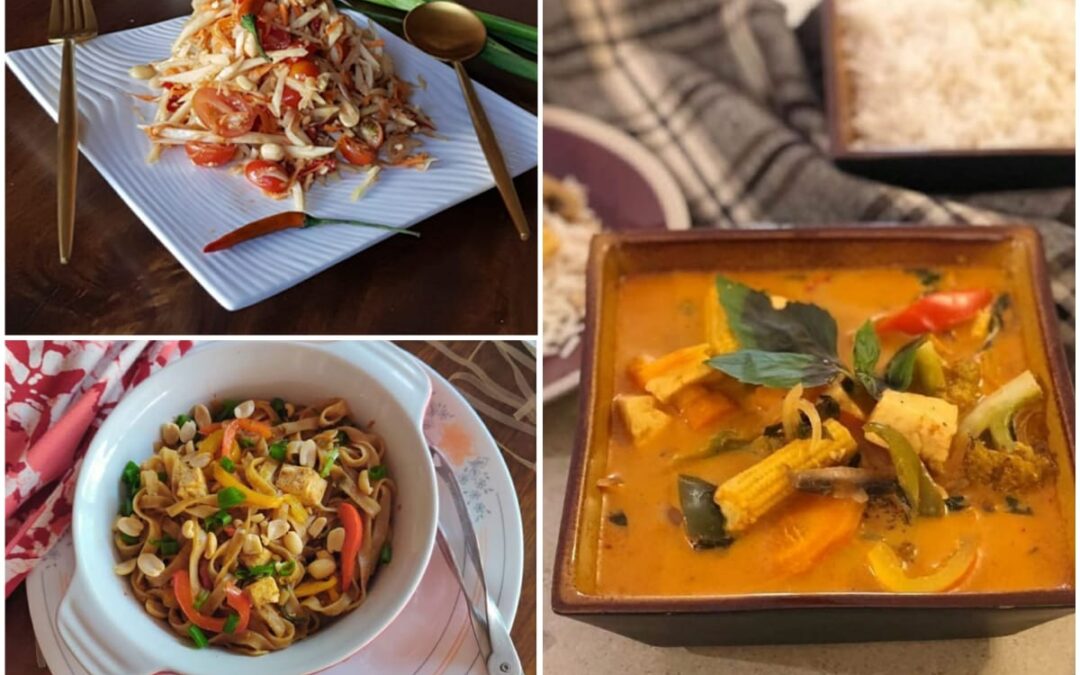 Thai Food Cooking Online Workshop
Thai Cuisine works effortlessly to lure food lovers into its aromatic spell. It's rich and creamy curries with fragrant sauces.
Thai cuisine can be simply said to be an artistic blend of fresh and dried herbs, with intriguing hints of tangy, the heady and the aromatic. It is an exquisite mix of fragrances of coriander, lemon grass, coconut, tamarind, galangal, chillies, sweet basil, ginger, garlic and shallots.
LEARN TO MAKE-
1. Red Thai curry
2. Som Tam Salad
3. Pad Thai
4. Tofu and vegetable satay with peanut dip
This is a demonstration based workshop (recommended) but you are welcome to try it if you do have the ingredients.
You will require a notebook and a pen to take down notes and interesting tips that the chef will give you.
The unedited video and recipes will be provided for your view.
About the Chef : Sheenu Duggal, a food blogger, consultant, home baker and autodidactic chef runs her blog 'Exotic musings' which reflects her food philosophy of cooking quick, easy, healthy, tasty and nutritious meals in this fast pace life we are living in today's world. Her experimentation with various exotic cuisines from across the world to an urban Indian household cooking is where she adds value to her clients.
Day & Date: Saturday, 17th October
Time: 5 pm to 7 pm (IST)
Venue: Online session on zoom
Fee: Rs 800 per person (Inclusive of GST and convenience charges)
Payment Link: https://rzp.io/l/eP2LaOFbaI
Note: Once you register, you will be added to a whatsapp group for ease in communication with the steps to join in.
About Bloom and Grow:
Bloom & Grow facilitates artist-led virtual and offline workshops for individuals and for corporates across the world.
To stay updated with the upcoming sessions, join WhatsApp group with the link https://chat.whatsapp.com/K3j1qNIjqWlBobA2fsKxFd