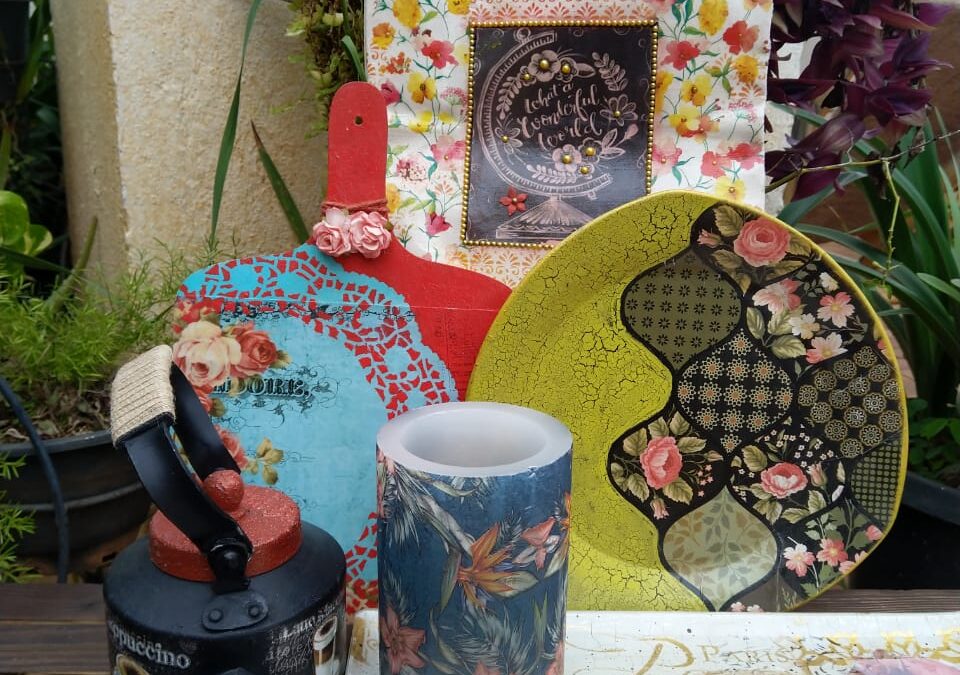 Decoupage Masterclass Online Workshop with Tanvi Shah
Learn the Classic French art of Decoupage with one of the finest trainers, Tanvi Shah from Paperfantasses.
You must have wondered about the technique pf decoupage that transforms your articles into irresistible pieces of art. You may have even tried your hand and perhaps were not completely satisfied with the result, either in terms of finish, techniques or color & paper combinations. This comprehensive session/module is definitely for you who finds decoupage interesting and would like to hone your skill to get impeccably finished outcomes.
The Art of Decoupage goes way beyond cutting and pasting paper on surface. An understanding and execution of creating decoupage backgrounds, using paints for flawless blending and merging, stamping, stenciling etc are the fundamentals of doing an excellent decoupage project. This Masterclass will be an answer to all your doubts, queries, incomplete leanings, and will fill the gaps in your expertise, so that you can excel in this.
About the Class:
Step by step detailed practical training & discussions about different decoupage techniques on 6 DIFFERENT surfaces with MULTIPLE decoupage mediums such as TISSUES, DECOUPAGE PAPER, NEWSPAPERS/MAGAZINE Cut outs and RICE PAPERS. You will also learn enhancement and finishing techniques for your projects.
Course curriculum:
1.Melamine Plate: On this surface we will learn to lend a 'CRACKLE' effect using both one-step crackle media. Using the crackle media correctly is key to success and there will be lots of tips for this. While doing crackle effect, BLENDING the background well is a critical consideration for an awesome finish and that will be taught as well
2. Metal Planter/Kettle: On metal surface you will learn the GILDING decoupage technique for this. Also, as we transit from flat to a ROUND SURFACE, the background blending techniques will vary.
3. Fabric bag/ Cushion Cover: Not the easiest surface to decoupage without wrinkles, you will master the art of decoupaging on fabric. You will also learn the use of STENCILS and SPRAYS to complement the decoupage.
4. Glass Tray/ Plate: A fantastic surface to work with, you will learn the technique of REVERSE DECOUPAGE that involves working on the back of the plate. We will also learn techniques to enhance the background with CRACKLE EFFECT and build on layers by blending colors.
5. Wood/MDF: Learn to lend a delicate LACE effect on a wood/MDF surface like nameboards, plaques etc.
This workshop is a complimentary module.
6. Wax Candle: Learn LAYERING of decoupage napkins on WAX candles and adding a shimmery effect or CRYSTAL DECOUPAGE. The same technique may be used on coasters, bottle, planters or jars.
Last but not the least – gain confidence of exploring decoupage by mixing and matching all the surfaces, techniques and effects learnt in this exhaustive class, possibilities are innumerable.
About the Artist:
While generally paper is seen as a medium for writing or drawing, Tanvi transforms it into beautiful handmade objects tea chests, jewelry boxes, trays and various vintage antique effect – decoupage products. True to the out of world designs she makes, her venture is named Paperfantasees.
Tanvi is obsessed with papers and has an eye for picking up unique patterns, designs and textures that lend an edge to her products. Her decoupage work has been appreciated by several leading artists in the field. This allowed her to extend her paper craft skills, to special handmade gifting ideas. Tanvi is based in Bangalore and recognised by peers and customers for exclusive designs & quality of finished products.
Day: Saturday and Sunday
Date: 22nd and 23rd August
Time: 3:30 pm to 6:00 pm (IST)
Fee: Rs 2500 per person (Inclusive of GST and convenience charges)
Venue: Online Session on Zoom
For registration participants can  Gpay/Paytm  to 9900052747/7259280949
Note:
* Once you register you will be added to a whatsapp group for ease of communication with the steps to join in.
* Images are representational of the techniques.
About Bloom and Grow:
Bloom & Grow facilitates artist-led virtual and offline workshops for individuals and for corporates across the world.
To stay updated with the upcoming sessions, join WhatsApp group with the link https://chat.whatsapp.com/CP1RliwfMNdDZnoCJaclOn