Career Leap – Career guidance summer camp for 12-15 years
For parents of high-schoolers, this workshop on career assessment will help your child determine their interests based on scientific tools and assessment.
Announcing Career Leap Summer Workshop!
Free Demo on the Summer camp workshop on April 2nd, 2016 and April 9th, 2016 from 5pm to 6pm. (Prior registration is a must)
About the workshop –
2 days of multiple intelligence based activities that map competencies, give a powerful insight into –
Individual strengths and a list of careers that match skills.
Inviting grade 8-9-10 students to experience a revolutionary experiential career guidance product to help them make informed career choices.
Duration: 2 days
Date:
Batch 1: April 14th-15th. 2016
Time: 2 pm to 7 pm
Parents Invited to Report Analysis on 15th at 7 pm.
What is Career Leap?
A scientifically designed experiential kit for career guidance!
Designed for grade 8-10 students, the Leap program comprises 7 experiential activity kits that lead into an online assessment that uncovers strengths and competencies that match careers. The program also offers guidance on mapped career options and information about them in the way of career information packs. A few well-spent hours engaged with these experiences, will help uncover passion, assist self-discovery and help you make informed career choices.
What happens at the Workshop?
1. Experiential activities
Students will engage in 7 experiential activity kits that are aligned to multiple intelligences. While being fun and engaging, they also provide vital data required for the scientific assessment and career mapping process.
2. ELRA Assessment
Every user's experience will assessed using the Experiential Learning Reflective Assessment (ELRA) algorithm. The reflective questionnaire will evaluate each user's signature personality consisting of dominant intelligences, top skills and strongest personality attributes.
3. Career Mapping
The individual assessment reports are mapped onto key success factors of thousands of careers to arrive at a distilled list of possible career choices that offer the individual the highest probability of success.
4. Report Analysis
A session dedicated to analysis of the results generated for each student, including how to read the report, using the data generated to achieve success and how to make informed decisions.
What will I get at the end?
An in-depth personal analysis of students' competencies, insight into strengths and interests and list of mapped career choices.
What is the Cost?
Rs 6,350/- Per head Inclusive of Lunch and Snacks.
To register for the free demo, please mail us at [email protected]
ABOUT INEXEL
Individuals deeply committed to improving the learning experience of every child lead the Experiential Learning Company. We believe that change in the education system is urgent and long overdue.
The feedback received from learners who have been impacted by the power of experiences has strengthened our resolve that experiential learning can change the way we learn forever. Our constant endeavor has been to make learning fun and engaging and instill a yearning of life-long learning among young minds.
Through the Career Leap Program, we have created a learning tool that improves the process of career choice making using real time hands on experiences.
We believe that students need to experience before they choose. The team is also behind the widely successful national event HEAD TABLE that gives leadership experiences to student councils in schools across India.
To know more about us please visit: www.inexel.org. Register by mailing us on [email protected]
Brush Lettering workshop
Start with the basics of typography
Introduction to calligraphy and lettering
Different kinds of lettering
Using the various strokes of the round brush to write/draw letters
Create a simple piece of lettering to take back home.
Date – APril 10th, 2016, 2pm – 5pm
Fee – Rs 800/- per head. Price inclusive of materials.
Shreyas is a self taught artist practicing lettering for the past few years. Keen to learn interact and open up young minds to the beautiful world of lettering.Register with https://www.eventshigh.com/detail/Bangalore/15bea2aadecc658ddeb945d8bae8e889
DIY Summer Camp
Kids & Kids at heart, here's a series of 4 Workshops to experience Embroidery like you've never known before!!
Dates – 12th to 15th April 2016
Timings -10:30 am to 1:00pm
Instructor – Rainy Khurana Sarna
The excitement of working with colours and tactile experiences of moving ahead with each stitch, gradually connecting you to your inner self…
Rainy is a Textile Design Graduate from NID,and has been practising in the industry since past 18 years. She is also a mother who is anxious about the future her child will grow into with less of meditative hobbies and more of gadgets.
Rainy wants the children today to settle their minds and make them appreciate patience and commitment to fulfill their need to experience calmness in their gadget flooded environments. She attempts to revolutionise the age old reputation of granny's embroidery crafts into fun and glamourised modules in the minds of the young.
The benefits of learning Embroidery –
Scientifically, its the cognitive part of the brain that releases stress and thereby getting a better hand,eye,mind co-ordination when you work with your hands.
Emotionally, the negative anger,frustrations,hurt gets channelized into a positive relaxed mind.
And the pleasure and satisfaction of a completed piece is undeniably a self-pride.
Every stitch,every thread,every moment counts…and it all adds up to the love of your child being at peace with themself and others around. 
Let your children know the peace and serenity that Quietness brings.
Dates – April 12th to 15th, 2016 from 10.30am to 1.30pm.
Fees for the 4 set workshop –
Rs 2,500/- per participant for all 4 workshops(inclusive of all material)
Rs.700/- per participant for each workshop separately.
Children can carry a snack to munch on during the break.
Pre-Registration required. Limites seats available.
Due to the nature of preparation for each of these workshops, cancellations will not be possible. Thank you for your understanding.
Natural Soap making workshop by Howaboutwee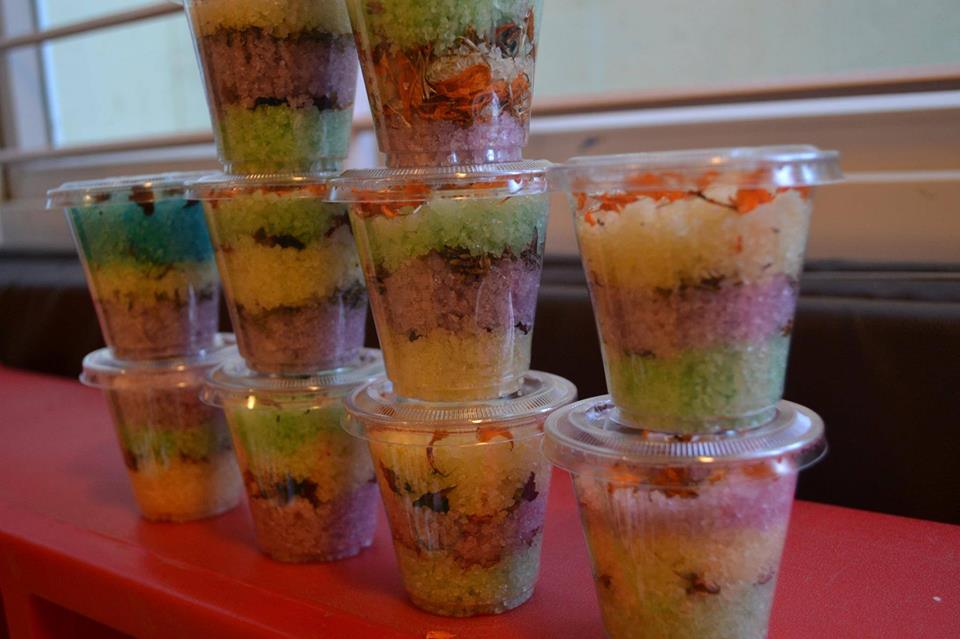 Natural Bath salts
This workshop helps you to learn the art of making handcrafted natural body bars, Bath salts, Scrubs, Aroma therapy blends, Body butter and more.
This would also help you to setup a small scale business with high revenue.
Cold Process Soaps with Infusions
Goat Milk Soaps, Glycerin soaps
Activated Carbon Bars for Acne
Aroma Therapy Formulation and Blends
Gentle Body and Face Scrub
Relaxing and Rejuvenating Bath salts
Relaxing Body Butter and More….
Take back all the samples that you create along with a recipe handout. Lunch and snacks will be provided.
Date – April 16th, 2016 from 11.00am to 5.30pm
Cost : Rs 5500/- (inclusive of everything)
Pre-registration required. Please register with Neeta on 
96110 35792
To register – https://www.eventshigh.com/detail/Bangalore/6499eddb02909e3fcea875a7ebcdbc0c
Batik Workshop by Kanal Shah
Kanal Shah teaches the basics of batik, use of wax and the process of mixing colours and dyes. You will learn the use of wax, insights of suitable material, use of colours and dyes and finally the removal of wax.
Unleash your creativity and the love for textiles.
Multicolour Batik workshop –
Date – April 17th, 2016
Limited seats for this workshop.
To register, https://www.eventshigh.com/detail/bangalore/992394aadb27974fdafc766f584f5b0e.
A meet-up of all Batik enthusiasts is on the cards the same day @ 6pm.
To register – https://www.eventshigh.com/detail/Bangalore/992394aadb27974fdafc766f584f5b0e-batik-workshop-by-kanal-shah
Shibori workshop by Kavya Aradhya
Shibori is a Japanese form of tye and dye. The technique of Shibori is taught by Kavya Aradhya. Kavya Aradhya is a Costume designer specialised in textile designing who also runs Mahila by Kavya Aradhya.
Kavya will introduce you to organic and natural dyes and teach you al the basics you need to know of this beautiful craft.
Fee – Rs 3,000 per person.
For registrations -https://www.eventshigh.com/detail/Bangalore/c47672b9a88a5cb192c89b9c4fa9887d
Table Styling workshop by Nidhi Khemka
Dress up your table in style to create an elegant and a memorable dining experience for your guests, by table stylist, Nidhi Khemka
This hour and a half demo workshop would include:
1. Basic placing of flatware and silver ware for individual and buffet placing.
2. Creative ideas for dressing up cocktail/mocktail glasses.
3. New and novel ways of creating centre pieces with interesting and everyday materials
4.Tips and tricks to enhance and use colour and texture with your placemats.
Fee – Rs 1,500/- per person.
Registration through online ticketing -https://www.eventshigh.com/detail/Bangalore/a33d19f840cc1e695164ff06fee9d8d4
Macrame Workshop 
Learn how to create the most iconic of all macramé projects: 
The Plant Hanger.
Students complete a project – They learn to make basic knots create the top of the hanger. Divide ropes into separate sections to work individually. Create basket structure to cradle plant pot.
Participants get to take home their own plat hanger.
Charges Rs2,200/- per head
Discount of 10% if 2 or more people register at the same time.
Seats are limited. Prior registration needed.
Silk thread Jewelry making
Creating a piece of adornment is satisfying to the very soul of a woman who'd like to adorn a being with yet another layer of beauty. This craft form unleashes your creativity as there are no limitations to the work you create with the medium of clay.
As Oscar Wilde said "You can either be a work of art or wear a work of art". This is for those who believe they can create jewellery that will touch the core or the very essence of being a woman.
The 2 day exhaustive workshop by Lámour will include making of SILK thread bangles, necklaces, jhumkas, bracelets and finger rings.
Dates – 30th April and 1st May 2016
Timings – 11:30 am to 3 pm
Fees – Rs 3500/- (inclusive of materials)
Pls. carry lunch.
Register with –
+91 7259280949
8861738438