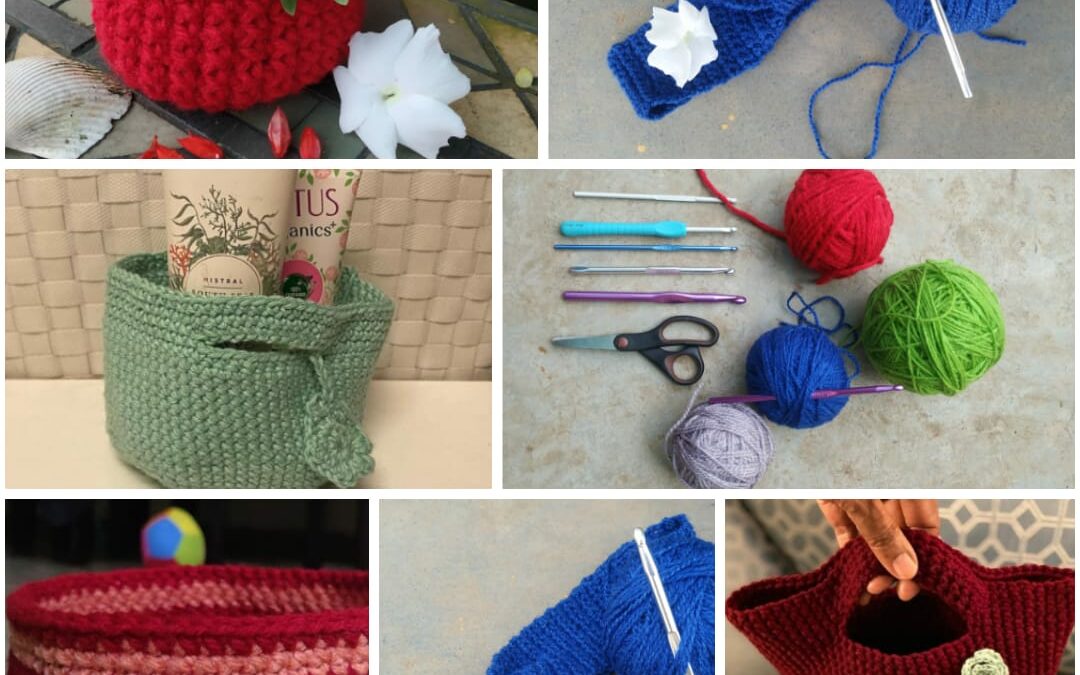 The delicate art of crocheting is a lifelong skill that you can use to make beautiful gifts for others and items for yourself and your home.
– Sessions : 5
– Age group : 12 years upwards
Materials Required:
–4-ply yarn in 4-5 colours
-8ply/ t shirt yarn (if possible)
–crochet hook size 4
-crochet hook size 8 (if possible)
-stitch marker/safety pin
-scissors
-paper and pen
CURRICULUM :
– Day 1
– Introduction to hooks, yarns etc
– Introduction to basic starting knots
– Slip knot, Chain and Single Crochet
– How to read pattern/instruction charts
– Start on a basic project: Hairband/Ear warmer
Day 2
– Quick revision of previous stitches
– Single Crochet Increase/Decrease
– More on reading patterns.
Day 3
– Magic ring / Changing colours
– Project 2: Basket
Day 4
-Revision of previous stitches
-Clearing doubts.
-Half Double Crochet stitch
-Project 3 (if time permits): Flower pattern
Day 5
-Go over any unfinished topics
-Show each other finished work
-Questions and answers.
Date: 11th Mar to 8th Apr
Day: 5 Saturdays
Time: 11 am to 12 noon (IST)
Fee: ₹1800 per person (All 5 sessions)
Venue: Online classes on zoom
Register with 9900052747 – Do let us know if you want the sessions on different days/timings
About Bloom and Grow:
Bloom & Grow facilitates artist-led virtual and offline workshops for individuals and for corporates across the world.
To stay updated with the upcoming sessions, join WhatsApp group with the link https://chat.whatsapp.com/FLjH1Wy9xsWHuy7wiEJgw9