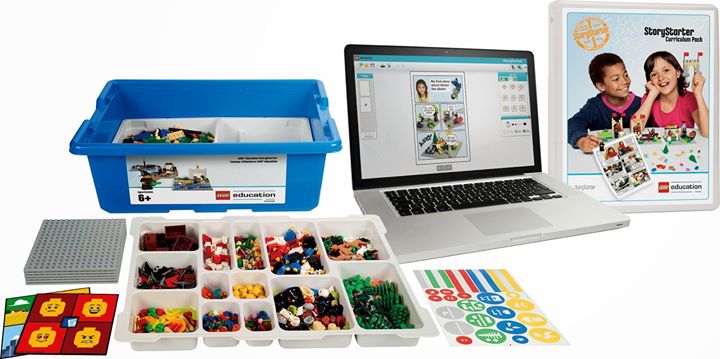 comprare viagra generico 200 mg pagamento online a Firenze by pooja kachroo | Sep 25, 2017
order viagra The LEGO Education WeDo™ Robotics Construction Set, aimed at children aged 6-11 introduces LEGO robotics to younger audience. The set combines the beloved LEGO bricks with one motor, two sensors, and a hub that connects the model to the computer. Simple drag-and-drop visual programming software is then used to bring the model to life. With this kid-friendly approach, the set makes learning fun, inspiring and engaging. Kids learn about complex topics in the fields of physics, engineering, and programming, as well as develop motor and cognitive skills through robot building, all as they have fun with LEGO bricks.These projects help children to lay the foundation for lifelong learning.
follow url LEGO® StoryStarter gets kids to work together to create and build stories with LEGO® bricks and figures, then use the unique StoryVisualiser Software to visualise, write and communicate their work.
go here How it helps?
A play full learning approach
Think creatively to make a working model
Develop vocabulary and communicationskills to explain how the model works
Establish links between cause and effect
Reflect on how to find answers and imagine new possibilities
Follow 2D drawings to build a 3D model
Thinklogically and create a program to produce a specific behaviour
Write and present creative stories using models for visual and dramatic effects
http://acrossaday.com/?search=buy-prednisone-online-no-prescription Level: Beginner (No previous experience required).
http://buy-generic-clomid.com Projects covered:
 1 guided project such as: Moving monkey, Spirograph, Recycle truck
 1 free story writing project: build scenes for a story and write on the iPad
 1 community build project to build a new city
Techniques covered:
Using motor, axles, tilt sensor, gears, motion sensor, lever, pulleys and writing algorithms / programming.
Take home:
A lot of FUN! Children will develop their 21st-century skills like problem solving, collaboration and communication
No models will be given home
Age group: 6 – 12 years
Price:Rs. 3,000
Dates: Sep 25, 26, 27
Timings: 2.30 pm – 5.00 pm (all three days)
Register – https://bloomandgrow.in/event/robotics-with-lego-wedo-dussera-camp-in-sep