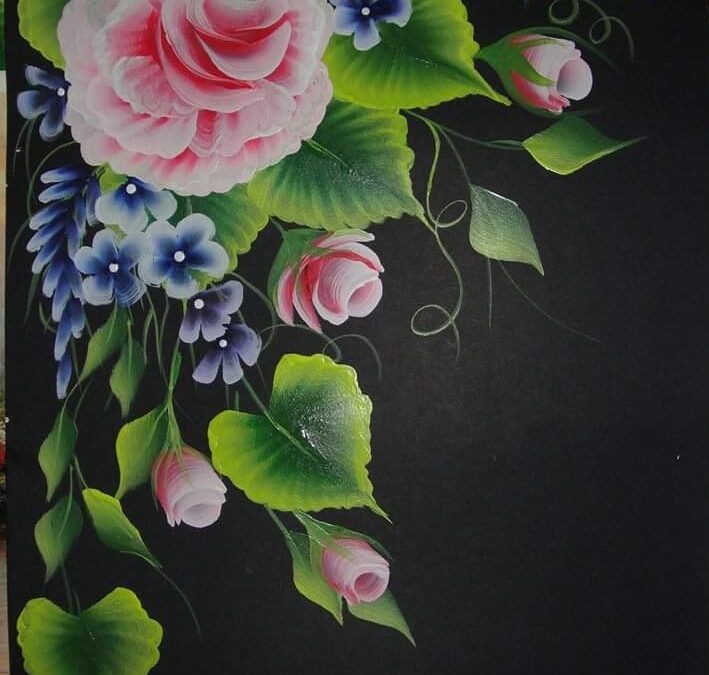 One Stroke Painting – Beginner workshop in Bangalore
One Stroke Painting is a double loading technique that consists of loading a brush with two separate colours. Donna Dewberry, the creator of the stroke claims that with her technique you are able to achieve the shading and highlighting in one stroke.
The brushes were 'double' and 'triple' loaded, to produce the highlight, body colour and shadow, of the petal, leaf or element, painted wet-on-wet and with a single stroke of the brush. This quick method of painting can be used for commercial reasons – to speedily decorate the furniture, pottery, boxes and trays ready for sale. So, although the brush carried one, two, three or more colours, it would have taken only 'one stroke' of the brush to produce the more complicated shading, giving depth and beauty to the design. It would have taken much longer to blend these colours together had they been added separately.
In this workshop conducted by Rinkal Patel you will be learning the basics of loading the brush, creating the basic strokes, the formation of a flower and a composition using these basic strokes.
Day & Date: Saturday, 16th March
Timings: 10.00am – 1.30pm
Venue: Bloom and Grow, Koramangala.
Fees: Rs. 1200 (includes all material)
Booking fee – Rs 500/- per person(balance amt Rs 700 needed to be paid at the Venue)
About Bloom and Grow:
Bloom & Grow facilitates artist-led art & craft workshops in studios and also, conducts art based corporate workshops across India.