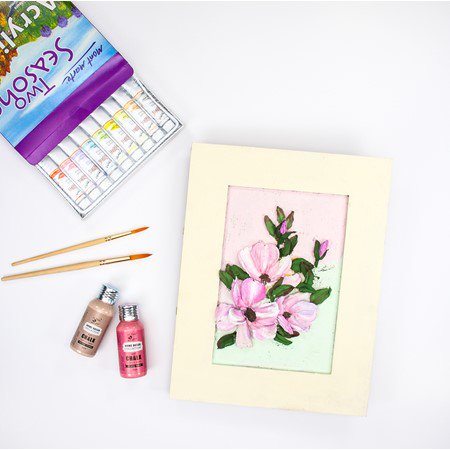 Sculpture Painting by Nasrin Banu
Bloom & Grow is excited to collaborate with Itsy Bitsy to present 12 Masterclasses as a part of the Itsy bitsy's Creativity Carnival on the 7th, 8th and 9th of December in Bangalore.
Artist of the Masterclass – Nasrin Banu
Join her workshop to an extremely interesting and artistic challenge painting and loads of newly learnt skills.
In this workshop, you will learn –
1. How to create dimensional flowers using various techniques of sculpture painting with Little Birdie's newly launched sculpture paste.
2. Skills of handling dimensional flowers in different angles with a palette knife, sculpting paste and chalk paints.
3. Techniques of handling and finishing your project with a special paste in different colours, meant for the purpose.
1. Unique handmade sculpture paste home decor piece.
2. Each participant will receive a certificate from team Itsy Bitsy.
Time – 2:30 pm to 6:00 pm
Venue – Shankaraa Foundation, Kanakapura Road, Bangalore
Fee – Rs 2499 per head ( Including all materials and taxes )
Book tickets @15% Discount (Rs 2125 per head)
You also get 3 entry tickets free with 1 masterclass ticket.
1. All materials for the workshop will be provided by Team Itsy Bitsy at the venue.
2. Please reach the venue 30 minutes before the masterclass starts.