Advanced Decoupage and Image Transfer – Itsy Bitsy Carnival Masterclasses
December 8, 2018 | 10:00 am

-

1:30 pm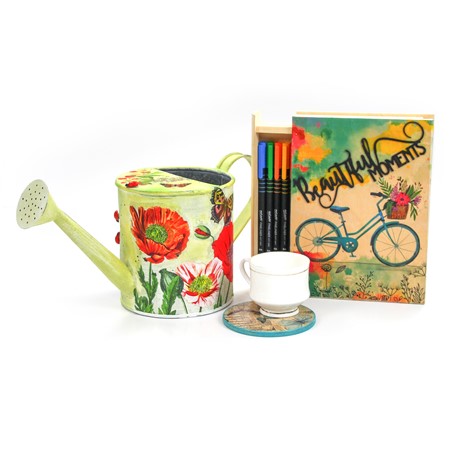 Advanced Decoupage and Image Transfer Techniques by Charita Lingam
Bloom & Grow is excited to collaborate with Itsy Bitsy to present 12 Masterclasses as a part of the Itsy bitsy's Creativity Carnival on the 7th, 8th and 9th of December in Bangalore.
Artist of the Masterclass – Charita Lingam , a multi-talented and adventurous crafter who is an expert in several crafting techniques!
Join her workshop to enjoy wonderful practical learning exposure as you build a gorgeous 3D texture on a regular paint brush.
In this workshop, you will learn –
1. Image Transfer Technique on a medium sized wooden book box
2. Tissue Decoupage on a huge metal watering can
3. Paper Decoupage and Stamping on a round MDF coaster with a vintage crackled effect.
4. Tricks and tips of other essential crafting methods like layering, composition, balance, cutting techniques, distressing, dabbing, stamping, sanding, spraying, varnishing and much more.
5. Use with glues & mediums, acrylic paints, Little Birdie's Two Step Crackle Medium, chalk paints, decoupage tissues and paper, rubber stamps, inks and more.

1. 3 completed decoupage projects on a huge metal watering can, round MDF coaster and medium size wooden book box.
2. Each participant will receive a certificate from team Itsy Bitsy.
Time – 10:00 am to 1:30 pm
Venue – Shankaraa Foundation, Kanakapura Road, Bangalore
Fee – Rs 2499 per head ( Including all materials and taxes )
Book tickets @15% Discount (Rs 2125 per head)
You also get 3 entry tickets free with 1 masterclass ticket.
1. All materials for the workshop will be provided by Team Itsy
2. Please reach the venue 30 minutes before the masterclass starts.