Introduction to Lettering for beginners
February 4, 2017 | 2:00 pm

-

4:00 pm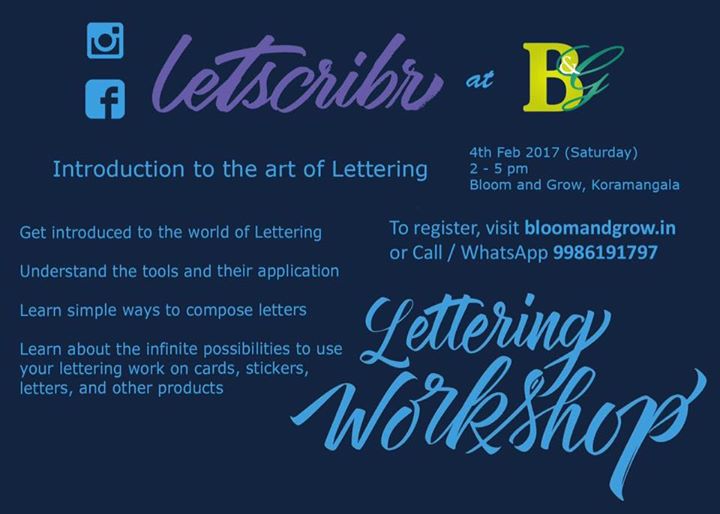 The "Introduction to Lettering" class will take you into the amazing world of lettering and show you how easy it is to get started.
Learn about the tools required and how to apply them.
You will be introduced to a variety of tools and techniques, and you can decide which ones you want to pick up and progress on.
There are infinite possibilities in the world of lettering and you can create your own signature style.
Topics to be covered in the demo class:
Introduction to the amazing world of lettering.
Basics of Typography and Calligraphy.
What is lettering, and how it relates to Typography and Calligraphy.
Types of lettering: Brush based, Nib based and simple pencil drawing.
Introduction to the tools used – types of brushes and nibs (flat and round)
Basic principles of usage of the tools of lettering.
How to dismantle the letters and creating them with strokes of the brush.
Introduction to digitisation of lettering work. Converting a piece into a digital art form.
Applications of lettering, and how to create digital art that you can use.
Age – 12 years plus
Fee-Rs 350/- only (Yup, you heard that rt:)
You know you need to hurry up now.
Register on bloomandgrow.in
This is not a full fledged workshop, it'll give you a tour of the world of lettering. You can take part in this and figure out which of the bigger workshops you want to attend.
Artist – Shreyas from LetScribr
instagram.com/letscribr
facebook.com/letsscribr
About Bloom and Grow: Bloom & Grow facilitates artist led art & craft workshops and art based corporate workshops across India.