Scratch Programming – Four Days Online Workshop
May 26 | 3:00 pm

-

May 29 | 4:30 pm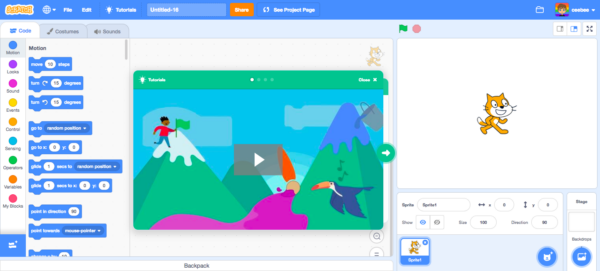 Scratch Programming – Four Days Live Online Workshop with Smitha
About Scratch
Scratch is a block-based programming platform, developed by MIT. It is very visual, gives instant feedback for code written, and allows kids to be very creative. Because of this, it is the perfect platform to get started with programming. Kids of ages 10+ enjoy working with this platform to create projects of all types. If you are interested in starting programming for your kid, but think Python is too difficult, then Scratch might be just right for you.
About this course
In this course, we will be learning the basics of programming, individual blocks, how they can be put together to do complex things. We will make an animated movie using Scratch programming language, which the students can then share with family and friends! Students will also learn the art of storytelling, and effective techniques to make captivating movie plots. They will implement their idea using the programming concepts they learnt, to make an animated movie online.
About the Trainer:
Smitha Pisupati, a maker, tinkerer, and founder of Tinkerama. She love building things, and love teaching. Tinkerama is her venture to bring Creative Confidence to children through hands on learning. With an electronics background, she had worked as a firmware engineer for 11 years, and programming has been a large part of her previous career.
Age group: 10 years and above
Dates: 26th May to 29th May
Days: Tuesday to Friday
Time: 3:00 pm to 4:30 pm (IST)
Venue: Online session on zoom
Fee: Rs 1800 per person (Inclusive of GST and convenience charges)
Payment link: https://rzp.io/l/NucqA4O
Note: Once you register you will be added to a whatsapp group for ease of communication with the steps to join in.
About Bloom and Grow:
Bloom & Grow facilitates artist-led art & craft workshops in studios and also, conducts art based corporate workshops across India.
To stay updated with the upcoming sessions, join WhatsApp group with the link https://chat.whatsapp.com/HKDsGqJSWGgBtDENOcMVea