Thangka Painting (Lotus) – Online Workshop
June 18 | 11:00 am

-

1:00 pm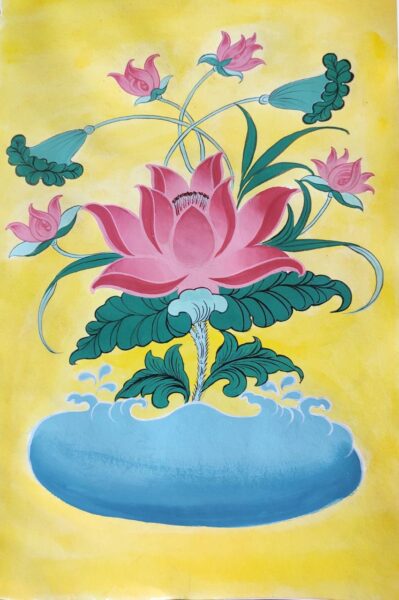 Thangka Painting (Lotus) – Online Workshop with Krishna Tashi Palmo
Thangka paintings are rich in meaning and usually depicts a Buddhist deity, scene, or mandala. Traditionally, Thangka is designed to tell the life of Buddha, as well as other influential Lamas and deities. Thangka artists believe that painting Thangkas aid in the spiritual path to enlightenment, as this religious art is used as a meditation tool.
As part of the 8 lucky signs that are of importance in a Thangka painting, we will be doing 1 sign which is the Thangka lotus. The 8 lucky signs are found often in Buddhist monasteries and in many homes. We will be doing one of them which is 'The Thangka lotus' that signifies spiritual purity. Krishna will also take us into the world of Thangka with stories, as we indulge in painting it.
*The communication for this workshop will be primarily in Hindi and moderated in English and Hindi.
Materials needed:
– A5 sheet/ Thick paper,
– Acrylic paints
– Pencil, Scale, Eraser,
– Tissues,
– Palette and
– Brushes (0-8 if you have) Else, 4 no brush and in place of 0 no. brush , you could also use thin tip markers of red and black colours.
About the Artist:
Krishna Tashi Palmo is an expert Thangka painting artist. She is certified in Tibetan Traditional Buddhist Thangka art  from T.c.v Patlikhul District Kullu Himachal Pradesh. She is an enthusiastic participant of art workshops and exhibited her artworks at Lahaul, Kullu Manali, Shimal, Jaipur, Delhi, Korea and Hong Kong. She's proud of her Thangka heritage and culture. She hopes that with her work she could make people see this art for what it is, magical and beautiful and understand the significance of this meditative art form.
Day & Date: Thursday, 18th June
Time: 11 am to 1 pm (IST)
Venue: Online session on Zoom
Fees: Rs 800 per person (Inclusive of GST and convenience charges)
Payment link: https://rzp.io/l/UtgcTZ8
Note: Once you register you will be added to a whatsapp group for ease of communication with the steps to join in.
About Bloom and Grow: