The Art of Acyrlics (Sketching & Acrylic painting sessions)
September 9, 2017 | 9:30 am

-

October 1, 2017 | 12:30 pm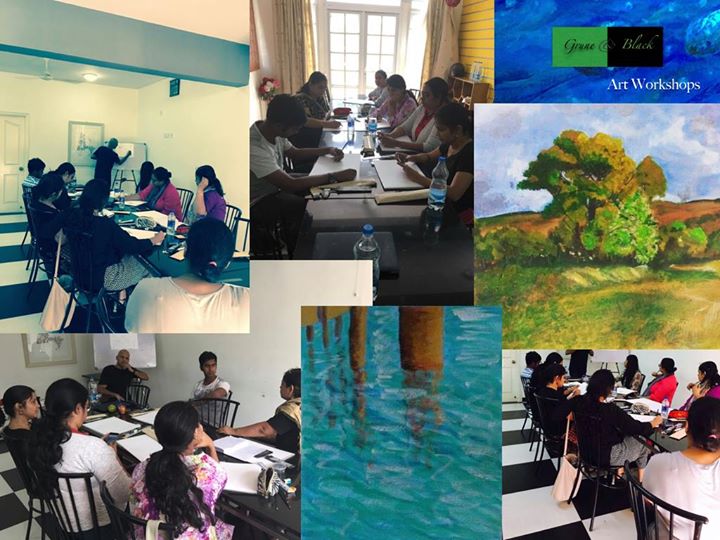 Sketching and Acrylic painting Classes
Grüne & Black
Experience creating your own great art with acrylic paints like never before. Grüne & Black returns with a brand new workshop on the fundamentals of acrylic painting. Featuring a range of modules covering the basics of drawing, perspective and shading; colour theory, mixing and techniques; and compositions on canvas.
This is an intensive workshop over 4 weekends that will get you started on a journey of artistic endeavours that you perhaps never imagined possible. Ideally suited for late teen / adult participants, it requires no prior background or experience in art. If you have experimented with art earlier or are looking to start, this is the workshop for you.
Do look up our FB page 'Grune Elefant Art' for further updates.
Here's a brief overview of what you'll learn at The Art Of Acrylics:
Module I
Start with Drawing
Creating basic shapes
Drawing principles & perspective
Shading techniques
Drawing Compositions
Module II
Introduction to Acrylics
The artist's tool kit
Colour mixing and application
Techniques of acrylic painting
Introduction to Compositions
Module III
Creating your own compositions
Landscapes
Still Lifes
Abstract & Non-Objective
What we will provide:
A drawing tool kit comprising an A3 size drawing book, a set of pencils, art erasers and a scale
A Certificate of Participation on successful completion of the workshop
Participants will be informed in advance about painting materials required to be procured through the duration of the workshop.
Venue: Bloom & Grow, 17D Main, 6th Block, Koramangala. Bangalore 560095.
Landmark: Near Koramangala Club
Start Date & Time: Saturday, 9th September, 2017 | 9.30 am – 12.00 pm
Duration: 4 weeks (2 days a week – Saturday & Sunday mornings at the above time)
Workshop Fee: INR 8,000/- (Introductory fee of Rs 6,500/- per person)
About the Artist:
Mark D'Cruz is the founder of Grüne Elefant Art  (https://www.facebook.com/gruneelefantart/), an online art gallery and platform for upcoming and established artists to display and promote their artwork. As an artist, Mark specialises in landscapes, still lifes, abstracts and portraits. He studied art as a global business at Sotheby's Institute of Art, UK, and offers services in the areas of art consulting. He is himself an avid art collector.