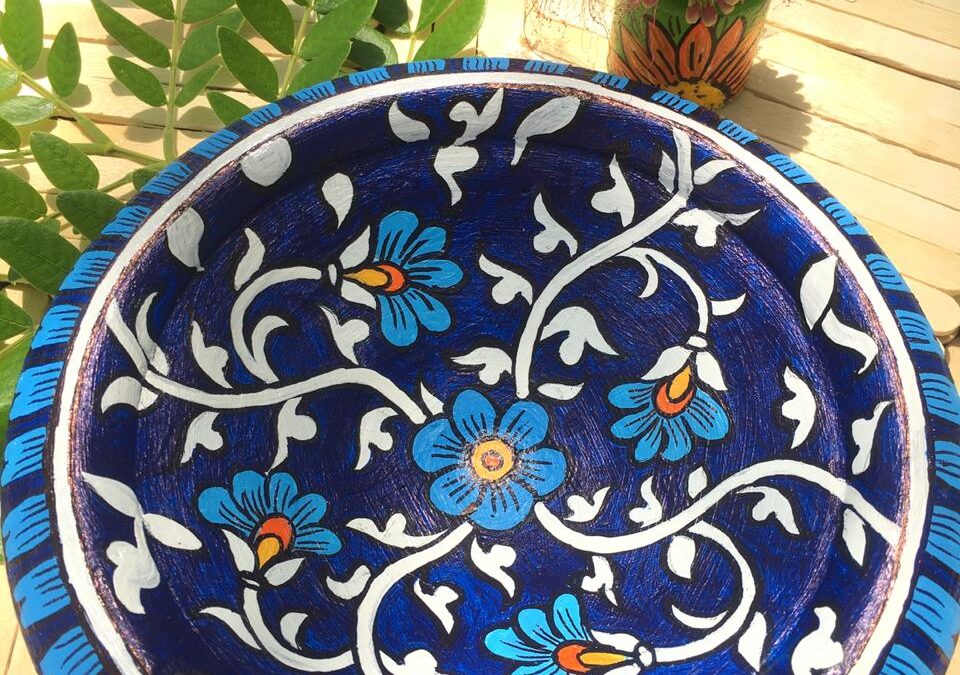 Faux Blue Pottery – Live Online Session
Blue pottery in India is widely recognized as a traditional craft of Jaipur, though it is Turko-Persian in origin. The name "blue pottery" comes from the eye catching blue dye used to colour the pottery.
Learn to make faux blue pottery designs on a plate as a lovely home decor piece.
Materials required:-
– Terracotta plate / any ceramic plate
(The plate will need to be primed one coat of white acrylic paint on the surface and dried before we begin the session)
– Acrylic colours – Prussian blue, white, orange ,golden yellow, and a waterproof black pen or black paint .
– Brush no. –  2, 3
– Palette
– Water bowl
– A rough rag
– Pencil
– Eraser
About the Artist:
Pooja Banka creates modern and contemporary art forms while maintaining the love for Indian folk art over 15 years. She is a certified fine artist from Pune and a certified artist from Pidilite. Her page on insta [email protected]
Age : Adults and Children above 8 years.
Date: 13th July 2020
Day: Monday
Time: 5 pm to 7 pm (IST)
Venue: Online Session on Zoom
Fee: Rs 600 per person (Inclusive of GST and convenience charges)
Payment link: https://rzp.io/l/fB7s44W
Note: Once you register you will be added to a whatsapp group for ease of communication with the steps to join in.
About Bloom and Grow:
Bloom & Grow facilitates artist-led art & craft workshops in studios and also, conducts art based corporate workshops across India.
To stay updated with the upcoming sessions, join WhatsApp group with the link https://chat.whatsapp.com/HKDsGqJSWGgBtDENOcMVea