Be a Spy! – Python Beginners Online Course for Kids
May 17, 2021 @ 10:00 am

-

May 28, 2021 @ 11:30 am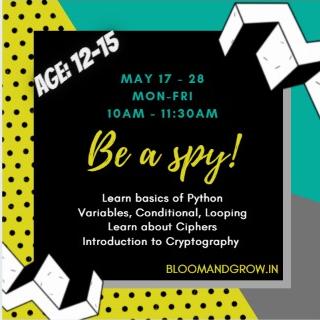 Be a Spy! – Python Beginners Online Course (10 sessions)
What will your kid make?
Over 15 hours, students will build their own Spy Code and build an encoder and decoder for it. This is a beginner level course and does not assume any prior knowledge of programming.
What will your kid learn?
Kids will learn the basics of programming, and Python Language. They will learn the building blocks of coding like variables, loops and conditions. They will learn about strings, functions and libraries. They will learn about problem solving techniques and testing and debugging their own code.  .
Age: 12 – 15 years
Date: 17th to 28th May
Day: Mon to Fri
Time: 10:00 am to 11:30 am (IST)
Fee: Rs 3900 per person
Venue: Online session on zoom
Register with GPAY on 9900052747
About Tinkerama:
Smitha Pisupati, a maker, tinkerer, and founder of Tinkerama. She love building things, and love teaching. Tinkerama is her venture to bring Creative Confidence to children through hands on learning. With an electronics background, she had worked as a firmware engineer for 11 years, and programming has been a large part of her previous career.
About Bloom and Grow:
Bloom & Grow facilitates artist-led virtual and offline workshops for individuals and for corporates across the world.
To stay updated with the upcoming sessions, join WhatsApp group with the link https://chat.whatsapp.com/K3j1qNIjqWlBobA2fsKxFd