Gold Leaf Gilding on Terracotta Pot – Beginner's workshop in Bangalore
July 13, 2019 | 10:30 am

-

1:30 pm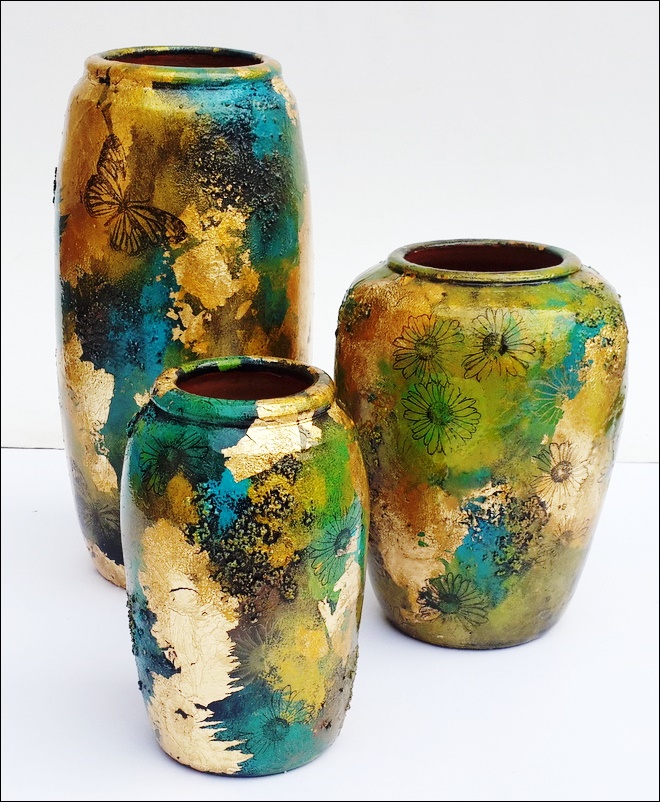 Gold Leaf Gilding on Terracotta Pot – Beginner's workshop in Bangalore
About Gold Leaf Gilding –
Gilding is a decorative technique for applying a very thin coating of gold to solid surfaces such as metal (most common), wood, porcelain, or stone. Gold leaf is gold that has been hammered into thin sheets by goldbeating and is often used for gilding. Layering gold leaf over a surface is called gold leafing or gilding. And it gives an object a gold appearance at a fraction of the cost of creating a solid gold object.
Step-by-Step process of Gilding
Prepare and Prime the Surface
Apply Adhesive Size
Apply the Leaf
Finishing
Protection
The Finished Result!
During this 3-hour session,
Participants will learn:
how to prepare Terracotta pot for painting, create textures and layers with different art mediums and colours.
How to use Gold Leaf to get the most wonderful effect.
How to add little something for a professional look to your project.
Learn this very beautiful and classic technique of Gold Leaf Gilding on Terracotta Pot.
We will be sharing lots of Tips and Techniques so you can work on different surfaces like canvas, paper, wood, glass to expand your creativity.
Instructor : Shilpa Nagaonkar
Participants will Take Away:
We will be working on 6″ tall Terracotta Pot. You will take home the masterpiece you have created.
Age: 12 years and above
Day & Date: Saturday, 13th July, 2019
Timings: 10.30 am to 1.30 pm
Fees: Rs 2000 per person (Includes all materials)
Booking Fee: Rs 500 (Balance of Rs 1500 to be paid at the venue)
Venue: Bloom and Grow, Koramangala
About Bloom and Grow:
Bloom & Grow facilitates artist-led art & craft workshops in studios and also, conducts art based corporate workshops across India.