Pichwai Art on Kettle – Beginners' workshop in Bangalore
October 19, 2019 | 2:30 pm

-

5:30 pm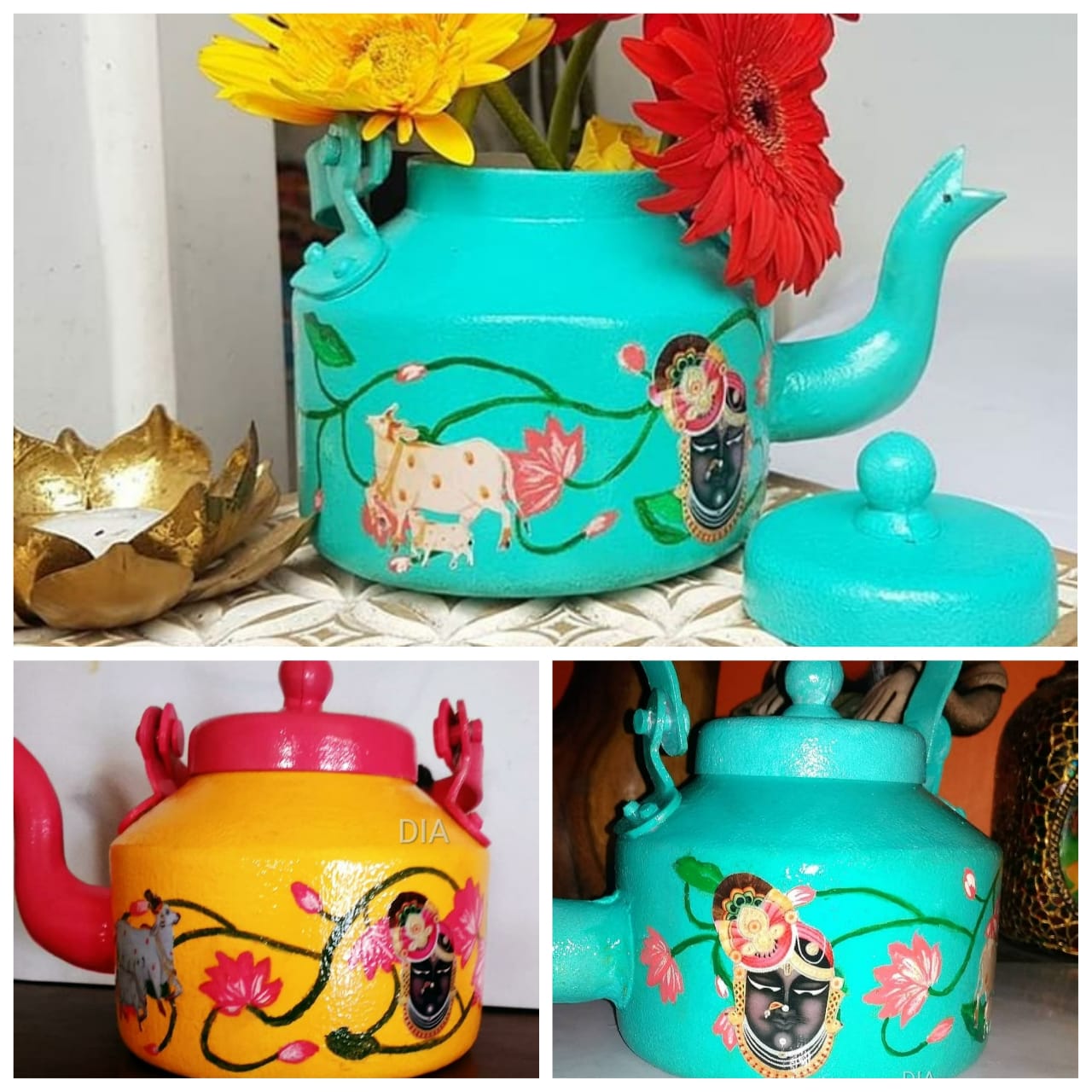 Pichwai Inspired Decoupage on Kettle – Beginners workshop in Bangalore
Decoupage is an art form that uses specially printed decoupage tissue napkins or decoupage paper to decorate various surfaces, using special techniques and painting effects, which will be taught to you, which make the finished product appear as if it has been hand-painted.
Pichwai also known as "Pichwai" is a traditional Indian art having its origins hundreds of years ago in Rajasthan. Pichwai art features intricate paintings portraying the baby Lord Krishna (Sreenath ji) which is usually done on fabric using dark rich hues.
Have fun creating a unique work of a combination of hand-painted lotuses and leaves, and decoupage Pichwai Sreenathji and Pichwai cows art.
Create a gorgeous decoupaged and hand-painted Pichwai art kettle ( for your home to use as a planter or for fresh/artificial flowers or just as a home decor accent). You can also gift this beautiful kettle to someone special, with this workshop that will teach you how to Decoupage on Metal.
With the techniques you will learn at this workshop, you will be able to decoupage on literally any surface (wood, glass, metal etc)!
What will be taught at this workshop:
– how to prepare the surface for hand-painting and decoupage
– hand painting the design on the body of kettle
– application of the decoupage paper
– sealing and protection of the finished piece.
All materials will be supplied at the venue for use at the workshop. 
No prior art experience necessary!
Artist: Dipa Anand – an artist and DIY enthusiast for over 20 years. She handcrafts home decor items for homes, offices, and provides customized gifting solutions. She brings her passion for the arts into teaching others various arts like Glass painting, Decoupage, Kerala mural art, etc in a fun, easy to learn manner, teaching participants all the tips and techniques one needs to learn.
Take Away: A gorgeous hand-painted and decoupaged Pichwai kettle.
Fee: Rs 1200 per person (Inclusive of materials)
Booking Fee: Rs 500 per person (Balance of Rs 700 to be paid at venue)
Venue: Bloom and Grow, Koramangala