Screen Printing workshop in Bangalore
June 20 | 11:00 am

-

June 21 | 4:00 pm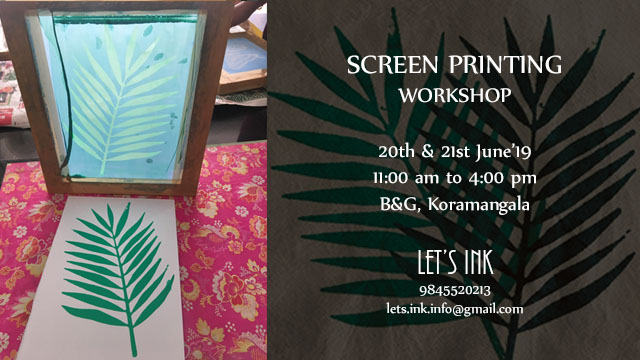 SCREEN PRINTING WORKSHOP in Bangalore
Bloom & Grow presents an exhaustive course on screen printing in collaboration with Lets Ink. Master the art of Screen printing as you Learn the complete process of screen printing. You would be able to print your own t-shirts, saris, bed linens, gift wraps, coasters, gift bags, envelopes, visiting cards & much more by the end of the workshop.
Course content:
Meshing the screen
Making the stencil
Photo emulsion process
DIY exposing box
Multi-screen printing
Multi-colour printing
Seamless printing
Printing on fabric
Printing on paper
A 2-day course at Bloom & Grow, Koramangala from 10am to 4pm .
Date: 20th and 21st June 2019
Time: 11am-4pm
Cost: Rs 6,500/- (Inclusive of all material & a kit worth Rs 2000 and lifelong access to 500+ designs for you to get started).
Bring along T-shirts or stoles to try your print on.
Register with 9845520213