The Art of Sugar Crafting (Weekday workshop)
March 1, 2018 | 10:30 am

-

March 2, 2018 | 1:30 pm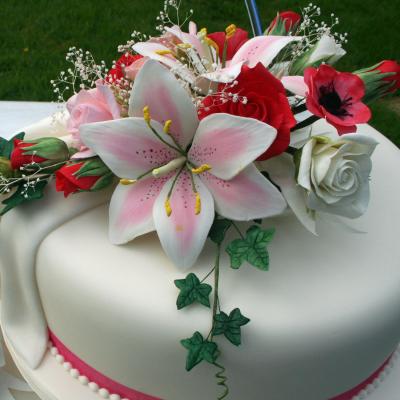 Two-day workshop on The Art of Sugar Crafting – Sugar Flowers
Are you a budding Home Baker trying to become a professional Cake Artist?
Have you always been interested in creating Beautiful Flowers and Cake Decorations?
Do you want to try your hand at beautifully decorated cakes?
Would you like to start your own cake business?
Acquire the skills and experience needed to be able to work sugar or gum paste and create sugar flowers that will look stunning on any celebration cake.
Whether you're new to the art of sugar flowers and want to learn simple techniques to create beautiful sprays or want to tackle something a little more complex, this is a course for you.
Participants will learn 7 different type of flowers – Calla Lilly, Cherry Blossom, Petunia, Sweet Peas, Roses, Carnation, and Agapanthus.
By the end of the workshop, participants will learn all the skills and techniques needed to further enrich your hobby, profession or passion.
All materials will be provided.
Materials provided for session –
Sugar paste
Food
Colours
Cutters
Wires
Pliers
Pollens
Floral tape
Participants have to bring a rolling pin (belan), a craft scissor and a tray or box to carry their flower sprays.
Recipe of the gum paste and images of the cutters with instruction will also be given.
This is a two-day workshop from 10.30am-1.30pm. Fee – Rs 2,500/- (inclusive of all materials + GST)
Day – Thursday & Friday
Time – 10.30am – 1.30pm
Fees – Rs 2500 per participant (includes all material cost)
Register by paying an advance of Rs 1,000/- on the website or paytm the full amount to 9715287905.
About the Artist:
Mrs. Rani Peter, founder of Christline Home Crafts has been an artist for over 22 years and has a versatile hand for painting on Canvas, Fabric, Glass and other mediums. She also teaches crafts like various types of murals, sculptures, box making and more.
Bloom & Grow facilitates artist-led art & craft workshops in studios and also, conducts art based corporate workshops across India.