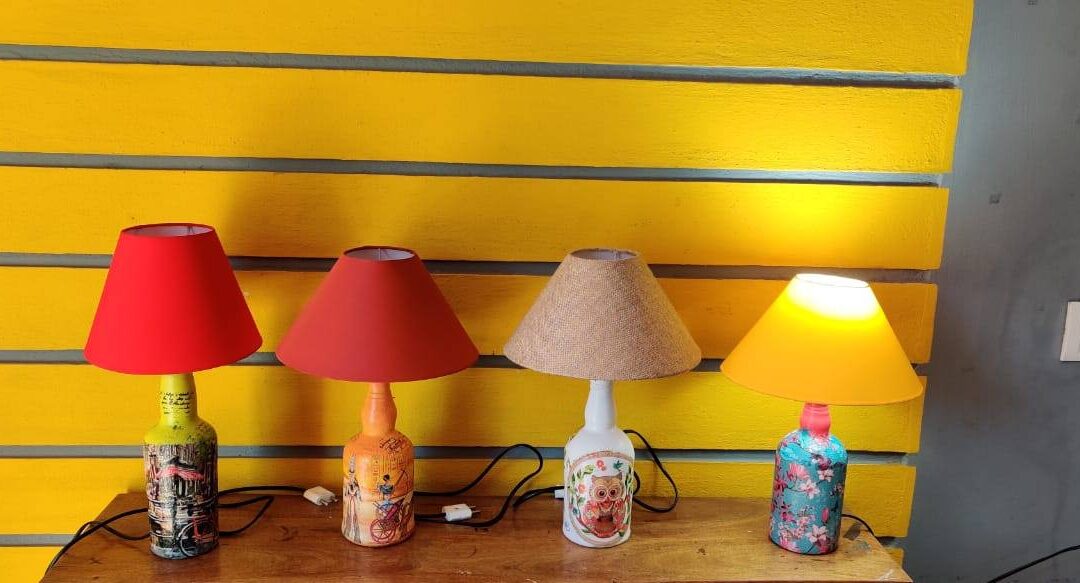 Decoupaged Bottle Lamp Making – Online Live Workshop
In this project you will learn:
– How to make hole in the glass bottle.
– Decorating our glass bottle with decoupage technique.
– Learning basic steps to do wiring of lampshade.
– Fixing the bulb holder to the mouth of bottle.
– Finishing our final product with lampshade.
– Learn all the basic of drilling, electrical work, crafting in one workshop.
Materials required
For Decoupage –
– 1 empty bottle primed either with gesso or white acrylic paint
– Brushes
– Paint
– Decoupage glue
– Decoupage tissues
For Lamp –
– Two core wire
– Plug
– Bulb holder
– Screwdriver
– Glue
For Drilling –
– Basic drilling machine
– Glass drilling bit..8 mm
– Safety tools
– Safety gear goggle & gloves
– Water
*Lamp Shade can be put later and are easily available on amazon. In case a participant is unable to complete the entire process or wishes to see and do it later, the recorded video will be available for later view.
Day & Date: Sunday 14th June
Time: 3 pm to 5 pm (IST)
Fees: Rs 600 per person (Inclusive of GST and convenience charges)
Venue: Online classes on Zoom
Payment link: https://rzp.io/l/DORMbyO
Note: Once you register you will be added to a whatsapp group for ease of communication with the steps to join in.  
About Bloom and Grow: